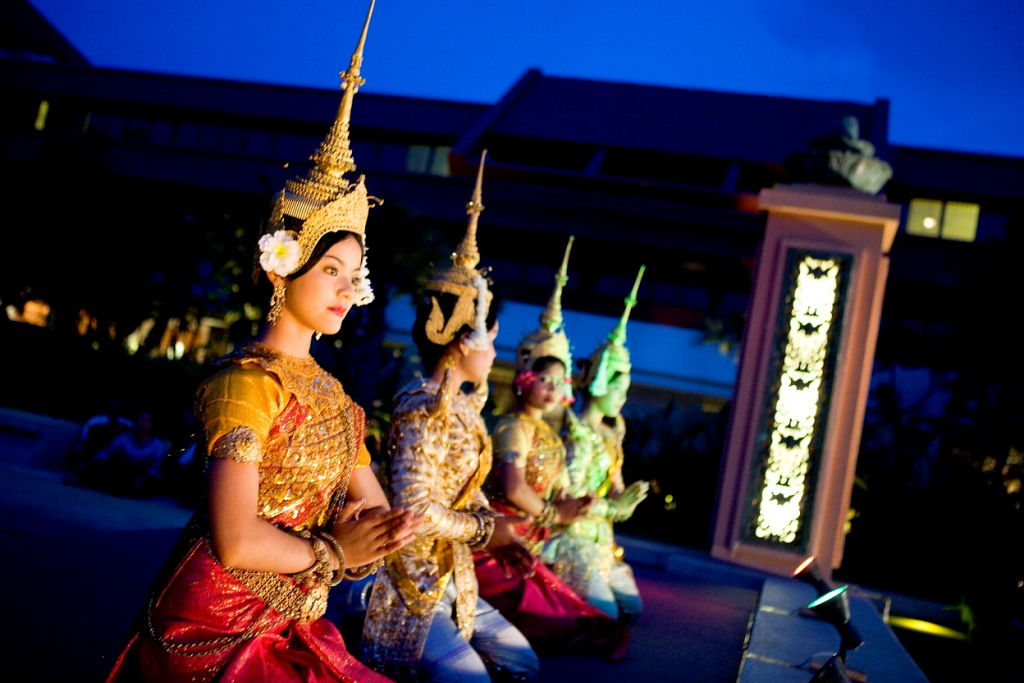 The Kingdom of Cambodia, bordered by Thailand, Laos, Vietnam, and the Gulf of Thailand, is an intriguing nation of fusions and contrasts. Aside from the astonishing temples of Angkor Wat, Cambodia has uniquely retained the many charms of yesteryear Asia. Rice paddies, water buffalos, indigenous farming and fishing, long forgotten cooking techniques, traditional silk weaving, and deep-rooted local music + customs can all be observed without straying far from Le Méridien Angkor.
Below you will find useful information for planning your trip.
Visas
Cambodian visas for most nationalities can be arranged in advance online as an e-visa; Visa-on-arrival is also availabe, however, processing time can be lengthy. The cost for a 30-day visa is between USD 20-25. If travelling by air, forms for visa-on-arrival, customs and other documents are available from most airport check-in desks, on board your flight, or at the immigration arrival area at the Siem Reap International Airport. If opting for the visa-on-arrival, we recommend carrying with you 2-3 passport pictures. Please check with your travel agent or nearest Cambodian Embassy for latest requirements for Cambodian Visas.
Currency
Although the official currency of Cambodia is the Riel, the US Dollar is widely used and accepted. US Dollars are available from most ATMs in town, subject to exchange and bank fees.
Airlines
Le Méridien Angkor is easily accessible from the Siem Reap International Airport (REP). For more information on airports and airlines please visit the Getting Here page.
Transportation Options
Siem Reap does not count with a government regulated taxi service. To avoid the hassle and time of haggling over price, Le Méridien Angkor recommends its reasonably priced and insured transportation options. Be it Airport Transfers, Tours, or simply a night out in the town, our hotel cars and drivers are at your service. Alternatively, the local tuk-tuks (motorized rickshaws) are a convenient and charming way of travelling short distances.
Cambodia Country Information
Main Language: Khmer
Main Religion: Buddhism (Theravada)
Population: 14.8 million (UN, 2005)
Ethnic group: Khmer, Vietnamese and Chinese minorities
Monetary unit: 4,000 riel = 1 USD
Climate: tropical humid climate: rainy (monsoon) season (May to November) and dry season (December to April)
Capital: Phnom Penh
Major Cities: Phnom Penh, Siem Reap, Sihanouk Ville, Koh Kong
Area: 181,035 sq km (69,898 sq miles) : Water 2.5%
Border countries: Laos 541 km, Thailand 803 km, Vietnam 1,228 km
Coastline: 443 km
Independence: 9 November 1953
Major Exports: Garments, Fisheries Products, Rubber
Major Export Trading Countries: United States, Germany, UK, Singapore, Japan
Major Imports: petroleum products, construction materials, vehicles and motorcycles, clothing
Major Import Trading Countries: Thailand, Singapore, Hong Kong, China, South Korea
Internet domain: .kh
International dialling code: +855
Electricity: 220V AC 50 Hz
Driving: Right hand side; International Driving Permit required
Direct Flight: from Bangkok, Taipei, Hong Kong, Singapore, Ho Chi Minh City, Vientiane, Kuala Lumpur, and Guangzhou
Type of Goverment: Multiparty liberal democracy under Monarchy
Head of State: His Majesty the King Norodom Sihamoni
** Please note that the information provided above is intended to serve as a rough guide only and is likely to change at any time.
Le Méridien Angkor cannot take responsibility for the accuracy of the information provided, as any changes are out of the hotel's control. Please check with your travel professional for the most up to date information.