Le Méridien Angkor rallies funds to support Kantha Bopha Hospital.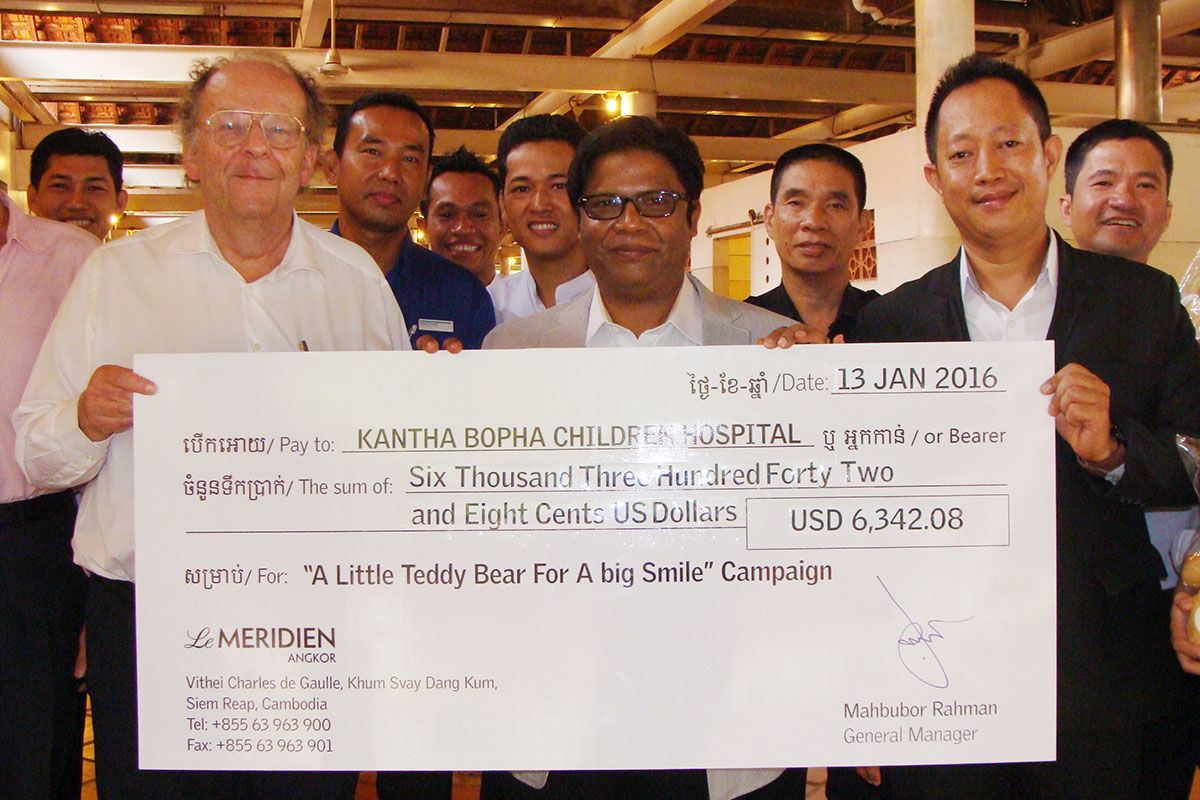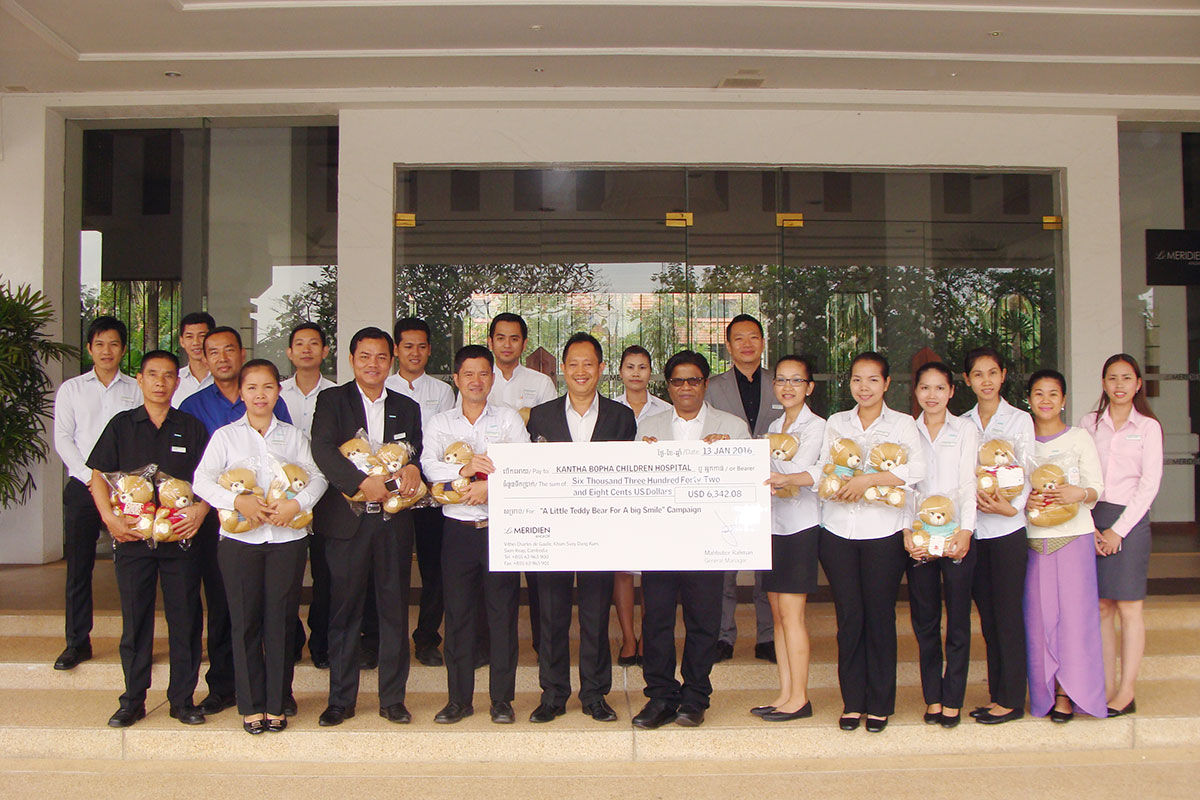 Siem Reap, CAMBODIA - Le Méridien Angkor rallies funds to support Kantha Bopha Foundation's Jayavarman VII Children's Hospital. The action will be conducted from 01 October 2017 till 06 January 2018.

The Hotel initiated this charity action since 2006. The Kantha Bopha Foundation relies almost 100% on donations to fund its medical services and provide free health care for Cambodian children. They literally save the lives of thousands of children every year suffering from tuberculosis and other curable diseases. Annually the Foundation run by Dr Beat Richner serves 100,000 vaccinations and 600,000 visits to sick children's.

Public can buy a cute teddy bear at US$15 sold at the hotel gift shop. The customer will be given a card to write best wishes and has a choice whether to keep or to give the soft toy to the children. By the end of the campaign, Le Méridien Angkor will present the money raised and teddy bears to the hospital.
If you are not staying with us, you are invited to buy a teddy bear and contribute to the hospital.
You can purchase the teddy bear online and we will write a message on your behalf, take a picture and send over to you.




About Starwood
Starwood Hotels & Resorts Worldwide, Inc. is one of the leading hotel and leisure companies in the world with 1,103 properties in nearly 100 countries and 154,000 employees at its owned and managed properties. Starwood is a fully integrated owner, operator and franchisor of hotels, resorts and residences with the following internationally renowned brands: St. Regis®, The Luxury Collection®, W®, Westin®, Le Méridien®, Sheraton®, Four Points® by Sheraton, Aloft®, and ElementSM. The Company boasts one of the industry's leading loyalty programs, Starwood Preferred Guest (SPG), allowing members to earn and redeem points for room stays, room upgrades and flights, with no blackout dates. Starwood also owns Starwood Vacation Ownership, Inc., a premier provider of world-class vacation experiences through villa-style resorts and privileged access to Starwood brands. For more information, please visit www.starwoodhotels.com
About Le Méridien
Le Méridien, the Paris-born hotel brand currently represented by 100 properties in 50 countries, was acquired by Starwood Hotels & Resorts Worldwide, Inc. (NYSE: HOT) in November 2005. Since then, Le Méridien has gone through a brand re-launch, which included a large scale hotels product consolidation as well as redefining its brand strategy. By appointing a full-time Cultural Curator – French arts-provocateur Jérôme Sans – Le Méridien transformed numerous guest touch points, thus brining unique and interactive experiences to its guests. With close to 80 of its properties located in Europe, Africa, the Middle East, and Asia-Pacific, Le Méridien provides a strong international complement to Starwood's primarily North American holdings. Plans call for dynamic expansion of Le Méridien hotels and resorts within the next five years, concentrating in the U.S., Latin America, and Asia-Pacific, including destinations such as India, Indonesia, Thailand and China. For more information, please visit www.lemeridien.com.
About Le Méridien Angkor
The closest hotel to the legendary temples of Angkor Wat, Le Méridien Angkor puts guests footsteps from the sites of ancient Cambodia. Le Méridien Angkor fuses European design DNA with exotic Khmer with subtle style. The hotel is calm, light and airy. Made from a palette of timbers, ceramics and stone Le Méridien Angkor is the perfect retreat after engaging daily outings amidst Khmer antiquities of the last thousand years and more or, local colourful markets and the rustic charm of Siem Reap. Modern comforts enlivened by vibrant silks and exotic patterns traditional to the orient, curious selections of sounds and scents evoke a special sense of feeling content.
MEDIA CONTACT
Dennis Kam / dennis.kam@lemeridien.com / +855 63 963 900 ext. 5300