THE KHMER HOUSE
Nestled in a lush garden featuring a magnificent view of Srah Srang, the Khmer House is a place of serenity and breathtaking views.
Start the day with an invigorating breakfast or relax after exploring the temples with our à la carte and set menus and refreshing drinks.
It is the perfect setting to celebrate milestones and special moments in a one-of-a-kind, unforgettable experience.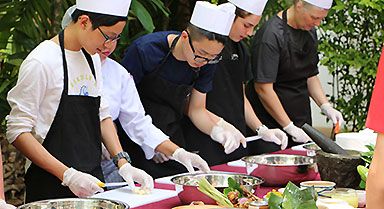 EXPERIENCE COOKING CLASS
Discover Khmer cuisine with our professional culinary team headed by Chef Kosal in an ambient setting.

$59++ per person for a maximum of two persons
$57++ per person for three persons and above

* Temple pass required for access
* Inclusive of transfers to and from the hotel



LUNCH
Take a break from exploring the temples and treat yourself to the refreshing flavours and aromas of our culinary gastronomy in a serene environment with one of the best views at Angkor.

À la carte from $4++
Set lunch from $15++ per person

See our menu here
* Temple pass required for access
* Inclusive of transfers to and from the hotel



SUNRISE BREAKFAST AND PRIVATE DINNER
Start the day right with an invigorating breakfast over an spectacular sunrise at Srah Srang.
The Khmer House is the perfect setting to celebrate milestones and special moments in a one-of-a-kind, unforgettable experience

Breakfast
$59++ per person for a maximum of two persons
$29++ per person for three persons and above

Dinner
$69++ per person for a maximum of two persons
* Temple pass required for access except for dinner
* Inclusive of transfers to and from the hotel